Addenbrooke's Hospital: 'Major incident' status downgraded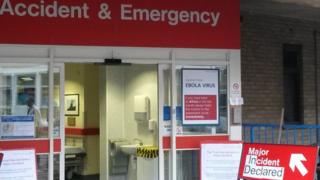 A hospital in Cambridge that declared a "major incident" on Tuesday as it struggled to cope with patient numbers has downgraded its status.
The 1,000-bed Addenbrooke's Hospital remains "critical" because of ongoing bed pressure, the hospital said.
In the afternoon it downgraded from "major incident" due to hospital improvements in the flow of patients through the hospital.
The hospital said demand on services still remains "extremely high".
Dr Keith McNeil, chief executive of Cambridge University Hospital, said: "Given the trust's continued critical bed state, it is essential that people do not attend accident and emergency unless they have an emergency or other serious health problem.
"Our priority is to care safely for our patients and we continue to work very hard with our partners during what is a very challenging period."