Una Crown murder: Brother doubts killer will be caught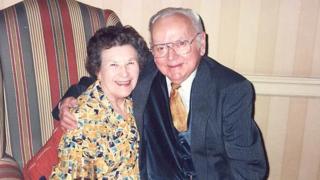 The brother of a woman murdered two years ago has said he doubts her killer will ever be brought to justice.
Una Crown, 86, was found stabbed to death in her bungalow in Magazine Lane, Wisbech, Cambridgeshire, on 13 January 2013. Her body had been set on fire.
Despite a number of arrests no-one has been charged with her murder.
Asked if he thought the killer would be found, her brother Terry White said: "I have my doubts. It would be nice to think, but it's been two years."
A post-mortem examination revealed Mrs Crown died as a result of stab wounds to her neck and chest.
Her body was then set on fire in an apparent attempt to disguise her injuries and destroy evidence, Cambridgeshire Police said.
Mrs Crown was last seen on Friday 11 January 2013, but made a telephone call to a friend at about 17.00 GMT the following day.
It is thought she was murdered some time between Saturday night and Sunday morning.
After her body was discovered on 13 January, it took two days before police determined her death was a homicide.
Mrs Crown's family said they felt let down, and fear evidence may have been lost during that period.
Three people arrested in connection with the case were released without further action.
A fourth man has been bailed until March.
Last May a new team of detectives was brought in to investigate the murder.
On the second anniversary of Mrs Crown's death officers renewed their appeal for information, saying they were still convinced the local community held the key to the identity of her killer.
A £10,000 reward is still on offer for information leading to an arrest and successful conviction.
Mr White, 77, who lives in Trumpington near Cambridge, said he hoped someone would come forward after a new appeal.
"I would think the local people would be glad to get rid of him," Mr White said.
"He's not the sort of person you'd want to protect. The things he did - this wasn't just a murder it was setting fire to the place after."