Haddenham 'worst Christmas tree' sold for RNIB charity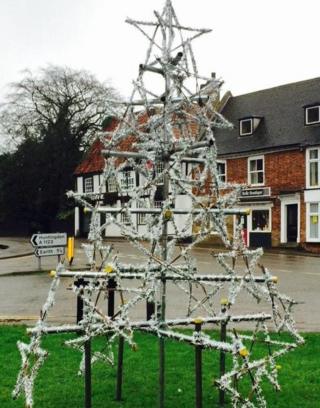 A Christmas tree branded the "worst in the country" by a national newspaper has gone on sale in a bid to raise money for charity.
The silver metal tree was erected in Haddenham in Cambridgeshire.
Although it was not the only tree in the village and was intended as a sculpture, it was described as "hideous" and "naff" by some people.
It has now been put on the online auction site eBay in the hope of raising money for the charity RNIB.
In early December the Daily Mail featured the scaffolding and tinsel tree, saying residents felt it was an "eyesore", and asking: "Is this Britain's worst Christmas tree?"
'Rare opportunity'
Jim Mullin, pastor of Haddenham's Baptist church hit back, saying villagers had been "offended" by the article.
"It was the central piece of a truly tremendous community event, the Festival of Light. The whole village turned out to have fun all day," he said.
"Personally I saw it as a real piece of contemporary art and congratulate the artists who came up with the idea."
Haddenham resident Miranda Pratt put 23 of the tree's 24 tinsel-covered wicker stars - one had been stolen - on the online auction site to raise money for the sight-loss charity the Royal National Institute for the Blind.
Priced at £10 each, they were advertised as "a rare opportunity to purchase a star from what was dubbed by the Daily Mail as the worst Christmas tree in Britain".
So far 13 of the stars have been sold - with some people choosing to pay more than £10 - and £200 has been raised for the charity.
The sale is expected to close on Sunday.