St Ives Norris Museum mystery mammoth hair inspires exhibition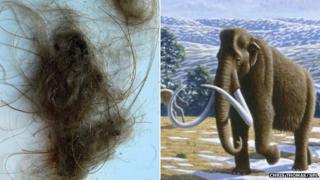 A clump of mammoth hair discovered in an envelope at a Cambridgeshire museum has inspired a new exhibition.
The hair was found during a stocktake at the Norris Museum in an envelope marked: "From St Petersburg Museum."
Assistant Richard Carter said they had no idea how it arrived but thought "perhaps someone snipped a bit off during a visit to Russia".
The hair was verified as genuine mammoth by Dr Chris Thomas, a former research scientist.
The exhibition started earlier, at the museum in St Ives.
The envelope containing the woolly mammoth (Mammuthus primigenius) hair is thought to date from the late 19th or early 20th Century.
On the back of the envelope is written: "This mammoth was found whole in perfect condition in an iceberg in Siberia."
It is thought to have come from an animal that roamed the Siberian plains about 40,000 years ago.
The exhibition, put together by Dr Thomas and the Norris's assistant curator Gilly Vose, runs until 18th April.
It includes the hair and envelope, photographs of the hair under a microscope, a replica scale model of a mammoth and a number of tusks and teeth, all found within Cambridgeshire.