Cambridgeshire magistrates' court merger: Concern over local justice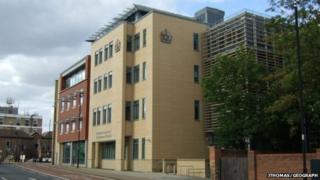 A major shake-up of Cambridgeshire's magistrates' courts could damage the principle of local justice, an MP and a solicitor have warned.
The reorganisation of courts in Cambridge, Peterborough and Huntingdon will bring domestic violence and youth cases Huntingdon starting in April.
MP Julian Huppert and solicitor Monica Lentin fear it will be harder for defendants to attend court.
A courts spokesman said the changes would improve the service.
Those cases not dealt with in Huntingdon will be held in either Peterborough or Cambridge.
The merger, which follows the axing of magistrates' courts in Ely and Wisbech in 2011, was announced by the Secretary of State for Justice Chris Grayling in October.
Monica Lentin, who has worked as a solicitor in Cambridge for 33 years, said the changes were "bad from everybody's point of view with people travelling from Cambridge to Peterborough - with the A14 road being notorious - and Huntingdon".
She added: "With Huntingdon there is no decent public transport between Cambridge and Huntingdon and no trains. A lot of people (especially those appearing in youth court) don't have cars.
"There will be lots more arrests for non-attendances."
'Preferred courthouse'
Lib Dem MP for Cambridge Julian Huppert said: "My big concern is how to ensure that justice is kept local - in particular it will make it more difficult to attend hearings.
"The thing about magistrates courts is that they are ideally held close to the community.
"Justice must be done and seen to be done. Magistrates and lawyers in Cambridge are concerned about this."
An HM Courts & Tribunals Service spokesman said the plans would "improve the effectiveness of the delivery of justice".
He said magistrates will be allowed to "specify a preferred courthouse... as far as possible".
Witnesses and victims will also be offered the use of "video link technology to reduce unnecessary travel".