Owner of St Ives 1950s photographs sought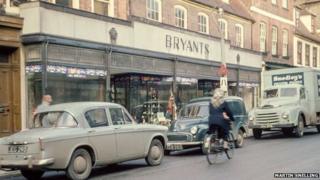 A man who bought a box of photographic slides dating from the 1950s and 60s is trying to find their rightful owner.
Martin Snelling, from Portchester in Hampshire, buys old photographs from auctions and car boot sales.
His latest acquisition of 200 slides features so many of St Ives in Cambridgeshire, he thinks they were taken by a family from the town.
He believes the photographer was called David and his wife was Molly. He hopes to "reunite them with their memories".
Mr Snelling, who collects slides and photographs as a hobby, purchased the two boxes earlier this month on the online auction site eBay.
The seller came across them late last year at an auction in Wisbech, but nothing is known about their history before that time.
Some of the slides are marked with names, such as David and Molly, others are marked: "Battle of Britain Parade, Market Hill, St Ives, Sept 1958".
Others show the independent shop Bryant's in the centre of the market town.
Mr Snelling has researched some of the scenes and has tried to get in touch with some of the people featured.
As a number of different family events including weddings and christenings are included, he hopes someone will recognise themselves or family members and get in touch with him so he can return their "memories" to them.