Cambridge May Ball T-rex given permanent museum home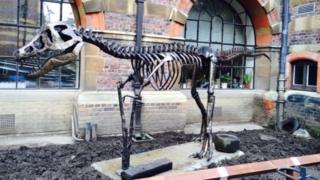 A metal sculpture of a Tyrannosaurus rex created for a Cambridge University ball has found a new home at a museum.
The model skeleton was created by sculptor Ian Curran from Doncaster and was the centre piece of the Clare College May Ball in June.
After that it was paraded through the streets of Cambridge and kept "under wraps" at the Downing College site.
It is now on permanent display outside the entrance of the Sedgwick Museum of Earth Sciences in Cambridge.
Sedgwick Museum director Ken McNamara said: "The sculpture will add to the excitement experienced by visitors as they arrive to see our unique collection."
Cambridge University says the Sedgwick is the oldest geological museum in the world and boasts a collection of thousands of fossils, including dinosaur remains and a life-size Iguanodon.
The model is half the size of a real Tyrannosaurus rex.
The animal, which lived 66-68 million years ago, was about 40ft (12m) long and about 15 to 20ft (4.6 to 6m) tall.