Sainsbury's cancels Ely Rear of the Year award ceremony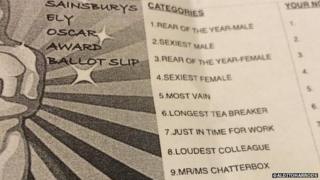 An award ceremony organised by staff at Sainsbury's and featuring categories including Rear of the Year has been cancelled following a complaint.
The event was due to take place in Ely on 28 February, but was scrapped after concerns were raised about the choice of award categories.
Sexiest Male, Sexiest Female and Most Blonde Moments were also up for grabs.
Sainsbury's said the event was cancelled "the moment colleagues realised that offence had been caused".
A spokeswoman for the supermarket said the ceremony at the Lighthouse Centre had been organised by staff at the Cambridgeshire store.
"We have spoken to the store about their events programme going forward," she said.
Staff had been asked to complete a nomination form for the Oscar-themed bash, which was due to finish at 02:00 GMT on the Sunday.
Pure Banter, Hard Grafter, Colleague of the Year and Longest Tea Breaker were some of the other awards up for grabs.
Users on Twitter criticised the planned event, saying it was "offensive".
One said Sainsbury's was "entering the Most Inappropriate Workplace category".