Bassingbourn Libyan cadet 'bad decisions' lessons learned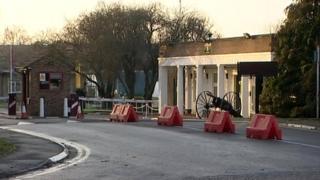 A "string of bad decisions" over the training of Libyan cadets in Cambridgeshire will not be repeated, councillors have been told.
More than 300 trainees arrived at Bassingbourn near Cambridge in June but were sent home early in November after five were charged with sexual offences.
The Army would not contemplate similar schemes involving troops from "lawless" countries, a council meeting was told.
But the MoD said it had only discounted further training at Bassingbourn.
At a closed meeting on Tuesday night, senior Army officials met with representatives from Bassingbourn Parish Council, the county and city councils for the first time.
'Drunk and aggressive'
Up to 2,000 soldiers had been due to undergo basic infantry and junior command training at Bassingbourn Barracks under an agreement reached at the 2013 G8 summit.
The scheme was intended to support the Libyan government's efforts to improve the security and stability of the country.
The first group returned home two weeks early after their comrades were charged with sexual assaults on women and raping a man in Cambridge on 26 October.
Lewis Herbert, city council leader, said: "We were told that there were a string of bad decisions... but the most important was closing off other options of where, other than the UK, to train troops from a lawless and chaotic country.
"It is clear from this that it is simply not viable to train troops from such a background, with no established command structures, on home soil and we were told this would not happen again."
The Ministry of Defence (MoD) initially assured residents the cadets would only be allowed out on supervised visits, however, it later admitted its rules had been relaxed.
There was a number of discipline breakdowns in October, with reports of large numbers of "drunk and aggressive" cadets in the Mill Road area of Cambridge.
Mr Herbert described the barracks as "in lockdown" over the weekend of 26 October when the five cadets, who are currently in custody, carried out attacks in the city.
A report into incidents at the base, published for the MoD in January, concluded security arrangements were "inadequate" but that "little could have been done to avert what happened".
An MoD spokesman confirmed no further Libyan troops would be trained at Bassingbourn but said if foreign forces were trained in the UK in the future, lessons learned from the report would be applied.