Arbury recovering addict Martin Jones on payback mission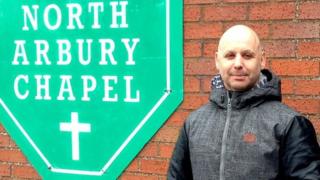 A recovering drug addict is trying to track down the people he cheated and stole from in a bid to "make restitution" for his crimes.
Martin Jones, of Arbury, Cambridge, said he used to "sucker Christians" for cash until experiencing "divine intervention".
Now a practising Christian, and self-employed, he is trying to tick names off a mental list and repay victims.
He said he had already paid for a camera he stole and repaid other money.
Mr Jones, who said he has been clean for 18 years, would target churchgoers when he needed money for heroin.
"In churches I'd find a lot of people who were susceptible to my deception. It was easy to take advantage of them," he said.
However, 18 years ago he sat on the floor of North Arbury Chapel and "asked God to help me kick this drug habit".
"At that moment I knew I was set free," Mr Jones said.
He said he now not only wanted to apologise to those he had hurt, but also to pay them back.
"There was one guy who used to cycle past me, and he knew I'd stolen a camera from his house," he said.
"One day I ran after him and said, 'I'm a Christian now - I know I shouldn't have done it'.
"I explained I was sorry and we came to an amount he thought I owed him. I paid him there and then and he always says hello to me now."
'Put things right'
He has also managed to pay £500 to a couple he said he "deceived" and has replaced several stolen bicycles.
"It's not about me. I've done wrong and I have a conscience," he said.
"I think it's important I make these steps to put things right."
Mr Jones, who now runs his own small care company, said he hoped people would see his story and talk to him about his past.
"I'm prepared to pay, whether it's giving my time or making restitution financially," he said.