Una Crown murder: Police thought death was 'accidental'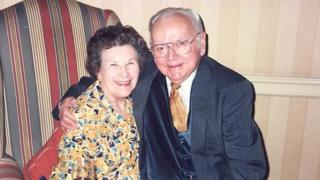 Police first thought a murdered widow accidentally set herself alight and deep gashes were caused by a tight scarf, an investigation has revealed.
The body of Una Crown, 86, was found at her Magazine Lane home in Wisbech, Cambridgeshire, on 13 January 2013. Tests later showed she had been stabbed and set on fire.
It was two days before a murder inquiry began. No-one has yet been charged.
A police review took place after her family complained about the delay.
Mrs Crown's body was found in her hallway by a family member. She was surrounded by burnt newspaper and lying in a pool of blood.
Two Cambridgeshire Police officers who attended the murder scene, concluded the death was not suspicious.
'Gaping wound'
They believed Mrs Crown's clothing had accidentally caught fire from a faulty hob ring, she tried to put out the fire with a tea towel, panicked and died from a heart attack.
In a report released by the force's professional standards department to her family, the first officer at the scene said: "There was nothing overwhelmingly suspicious.
"The only problem is the blood and she's had no obvious place to hit her head."
When Mrs Crown's body was turned over, "two slits to her throat" were discovered, beneath a tightly-knotted scarf.
He said: "Oh my goodness, her throat has been slit, has she been murdered. I was flabbergasted and didn't understand what I was looking at."
The second officer also said he noticed "a gaping wound to her throat".
"I immediately thought 'I wasn't expecting that'," he said.
But after discussing the wounds, they decided the skin on her neck had most likely been torn by pressure from the scarf as her body hit the floor.
Both officers, a scenes of crime officer and two fire investigators all concluded the death was not suspicious, the second officer said.
After Mrs Crown's body was removed, the family was allowed into her home to sort through her belongings.
Two days later they were told her death had been declared a murder and were asked to leave.
The internal investigation into the events immediately following the discovery of the body, was carried out after Mrs Crown's niece, Judy Payne, and her husband John, who discovered the body, complained to Cambridgeshire Police.
They said officers had "failed to accurately assess the sudden death of Una Crown as being suspicious".
They further claimed the officers "failed to take the necessary steps to preserve the scene and that as a result evidence that could have assisted the investigation was lost".
Both complaints were upheld.
The two officers were found to have "breached the standards of professional behaviour" but it was decided they should not face "formal sanctions".
"Both officers greatly regret the distress caused to Mr and Mrs Payne by their flawed decision-making," a senior officer said.
One man arrested on suspicion of her murder remains on bail until next month.