Nottingham woman jailed for killing Peterborough A47 crash couple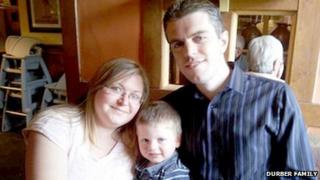 A woman has been jailed for one year for killing a couple in a crash in Cambridgeshire.
Stephen Durber, 30, and his wife Samantha, 27, both of Princes Road, in Fletton, Peterborough, died in the two-vehicle collision on the A47 near Sacrewell Farm on 25 August 2013.
Debra Jane Weston, 41, from Canver Close in Nottingham, admitted causing death by careless driving.
Her "momentary inattention" had "tragic consequences", the judge told Weston.
The Durbers' son, Lucas, aged three, was seriously injured but survived the crash.
Weston had admitted two counts of causing death by careless driving at a hearing in January, having previously denied the charges.
Peterborough Crown Court heard the accident was a result of Weston's "momentary inattention while driving".
Her Land Rover Discovery collided with the Ford Focus being driven by Mr Durber, when Weston's vehicle drifted into the opposite lane.
"You lost control in that moment and the consequences were tragic," Judge Sean Enright told Weston.
"Speed, drink, fatigue and avoidable distractions such as eating or using a mobile phone have all been eliminated as causes."
The sentence reflected Weston's "good driving record and obvious remorse", he said, but added: "Nothing I can say can capture the essence of this couple and the tragic and enduring loss to their family and their son."
As well as being jailed for 12 months, Weston was disqualified from driving for three years.