Prince William's East Anglian Air Ambulance pilot role to start in summer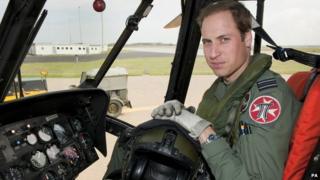 Prince William will start flying as an air ambulance pilot in the summer, it has been revealed.
The East Anglian Air Ambulance (EAAA) announced last year he would be taking up the role, based at Cambridge Airport, in the spring.
Royal sources have said the Duke of Cambridge will still be taking up his post in the spring as planned, but he will not be flying until the summer.
The Duchess of Cambridge is expecting the couple's second child in April.
He will be employed by Bond Air Services, which operates two helicopters on behalf of the charity based in Cambridge and Norwich, serving Bedfordshire, Cambridgeshire, Norfolk and Suffolk.
The prince has been taking a series of exams in preparation for his new role with the charity, where he is due to earn about £40,000 a year.
He is due to donate his after-tax salary to charity.
Prince William gave up his role as an RAF search and rescue helicopter pilot in September 2013.
During his seven years flying Sea Kings, he carried out more than 150 missions and completed more than 1,300 flying hours.