Rubber band recycler's charity collection mission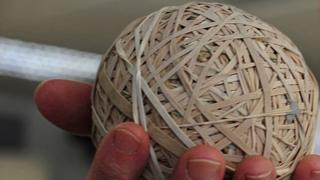 A one-man crusade is giving new life to discarded rubber bands, but only after they have been through a spin cycle and thorough airing.
Peter Johnson, 63, has been collecting the elasticated tidies he finds around Godmanchester in Cambridgeshire.
He then puts them in a mesh bag in the washing machine, dries them over radiators and donates them to charity.
In one "record week", the intrepid laggy-band lifter amassed 276 dropped loops.
Mr Johnson started noticing the elastic bands when he took over a paper round. He said they were often accidentally dropped by postal workers.
The lucky recipients of Mr Johnson's largesse are the staff at Wood Green Animal Shelter shop.
The rubber recycler claimed: "The other day they asked if I had more as they were running out."
Asked what she uses the benevolently bestowed bands for, Jill Harvey, a volunteer at Wood Green's Godmanchester thrift shop, said: "Lots of things - putting them on hanger ends to keep slippy clothes falling off, one on each end of a rolled-up mat, keeping some kids' toys together, putting some around packaged linen - to name but a few.
"You never know when you are going to need one."
Rubber bands are generally sold by weight.
The Post Office sells 100g of "basic" rubber bands, which it describes as "probably the handiest piece of elastic invented" for 63p plus VAT.