Cambridge flats The Marque 'failed to meet expectations'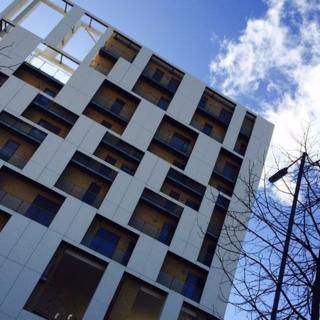 A 10-storey block of flats in Cambridge described as "a vast excrescence" by an author "did not live up to expectations", a report has found.
Cambridge City Council commissioned the independent report into the "controversial" building, The Marque.
There were 57 changes to the original design over a six year period before it was completed in 2013.
Labour council leader Lewis Herbert said developers needed to be given a clearer planning brief in the future.
'Too intimidating'
Residents campaigned against the design and scale of the building, which is on the corner of Hills Road and Cherry Hinton Road.
David Jones, author of Hideous Cambridge, said: "It looks like a double bed set up on end.
"It's too tall, it's too intimidating and if you look at the building opposite, its light is entirely blocked out by this vast excrescence."
The report by independent planning adviser Barry Shaw concluded the council "largely followed the correct procedures in its assessment, determination and post-application procedures".
'Dream got lost'
However, it recognised that "the finished design does not live up to expectations".
Mr Herbert said the original design, of a white screen on white bricks had been "cheapened" with an "atrocious colour choice".
Liberal Democrat councillor Catherine Smart, whose party was in control when the planning application was approved, said the development had begun as "a marvellous scheme".
"Then it got passed on to someone else and the dream got lost," she said.
Mr Herbert said the council was "committed to learning lessons from The Marque".
"I hope the planning committee will agree a planning brief so that the council leads on the design on [future] sites, so that it's not solely left to developers," he said.