Cambridge library plans for £600K enterprise centre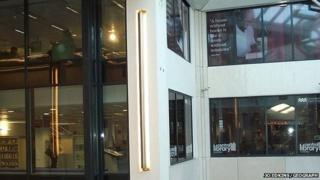 Plans for a £600,000 enterprise centre at Cambridge Central Library are being recommended for approval by councillors.
Cambridgeshire County Council is looking at teaming up with private firm Kora to create the centre.
It would be on the third floor of the library and would work with the council's career advice service.
The plans will go before the council's infrastructure committee on 17 March.
A report to the council said the partnership with business enterprise firm Kora would provide a range of opportunities for job seekers and entrepreneurs such as talks by business leaders.
The centre would also include meeting rooms which could be rented out for business meetings, with the profits being shared between Kora and the council.
The council said it would invest £300,000 in the scheme which would be match-funded by Kora.
If the scheme is given the go-ahead by councillors, the centre could open in September.