Wilko Johnson raises £10K for Addenbrooke's Hospital that saved his life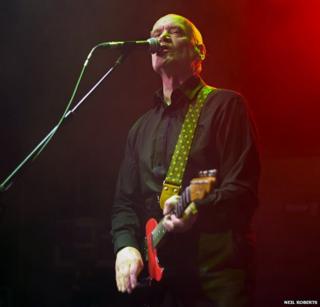 Musician Wilko Johnson has raised more than £10,000 at a sell-out gig in aid of the Cambridge hospital where he successfully underwent treatment for what he was told was terminal cancer.
The former Dr Feelgood guitarist, 67, was given 10 months to live after being diagnosed with pancreatic cancer.
But he got the all clear in April after the 3kg (7lb 8oz) tumour was removed at Addenbrooke's Hospital.
About 850 people attended the benefit gig in Cambridge on Friday night.
Johnson, who lives in Southend in Essex, was diagnosed with terminal pancreatic cancer in 2012.
However, after seeing a cancer specialist at Addenbrooke's it was discovered that he had a rare form of tumour which was operable.
He underwent an 11-hour procedure to remove the tumour.
Last month Johnson returned to Addenbrooke's to meet his surgeon Emmanuel Huget, and some of the other staff who had cared for him.
His sell-out gig was his way of saying "thank you" to them, Johnson said.
"What can I say about Addenbrooke's? To me it's like a wonderful, magical place. They saved my life, it was fantastic," he said.
The Junction waived its hire costs for Johnson's first full comeback gig enabling the Addenbrooke's Charitable Trust to benefit fully.
Half the tickets for the event were snapped up within one-and-a-half hours of going on sale on 23 January.
Within two days the gig had sold out.
Samantha Sherratt, the charity's events organiser, said: "What a night. Wilko is so effusive about the care he received at Addenbrooke's and what a wonderful way of saying 'thank you'.
"Wilko's surgical team, headed by Emmanuel Huguet, were in the audience and they were absolutely chuffed to see him back on stage."