Cambridge Tivoli pub fire investigation unable to start for several weeks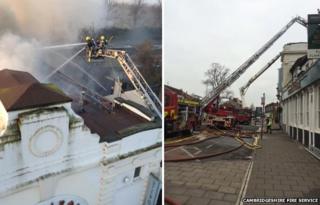 The cause of a major fire which devastated a riverside pub in Cambridge could take several weeks to determine as the building is structurally unsafe.
The blaze at the Wetherspoon Tivoli pub on Chesterton Road took hold at about 03:00 GMT on Saturday. It is thought to have started in a kitchen.
Nobody was inside at the time.
Cambridgeshire Fire and Rescue Service said the 1920s former cinema was still "too dangerous" for investigators to enter.
At the height of the blaze, about 50 firefighters were involved in tackling the flames using water pumped from the River Cam which runs behind the building.
The fire had to be fought from above as part of the building collapsed.
Crews have been returning to the pub at regular intervals to check for hotspots.
Fire investigators met with the building's owner earlier and a spokesman confirmed: "The building is deemed too dangerous to enter.
"It may be several weeks before it is safe enough to go inside."