Seven-hour siege at Cambridge home ends in arrest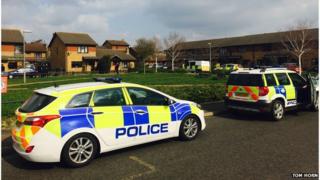 A man has been arrested following a seven-hour stand-off with armed police at a Cambridge home.
The siege began at Ellison Close on Monday morning when police tried to arrest a man on suspicion of burglary.
Cambridgeshire Police said he made threats to harm himself or anybody who tried to enter the house.
Officers confirmed the siege had reached a "peaceful conclusion" at about 18:00 GMT and the man was taken in for questioning.