Una Crown: Coroner criticises Cambridgeshire Police over widow death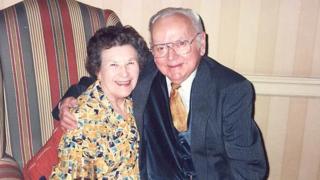 A coroner has criticised Cambridgeshire Police for hastily dismissing suspicious circumstances around the death of an 86-year-old widow.
Una Crown was found dead at her bungalow in Wisbech on 13 January 2013.
She had been stabbed and set on fire, but a murder investigation did not begin until four days later.
The force said it "recognised its failings". Coroner William Morris recorded an "unlawful killing" verdict at the inquest in Huntingdon.
Mr Morris said: "Foul play or suspicious circumstances were too readily dismissed by police officers.
'Evidence lost'
"The bungalow was not treated as a full crime scene immediately so that a proper forensic examination could be carried out.
"Instead her body was removed, police failed to preserve the scene, family were allowed access to the property to clear up, evidence was lost."
Several people have been arrested over the murder of the former postmistress, but no-one has been charged.
Huntingdon Coroner's Court heard that police, paramedics and firefighters who attended the scene on 13 January all decided she had died in an accident.
A statement from Simon Gledhill, acting police sergeant and one of the first officers at the scene, said it was thought a faulty oven had set fire to a tea towel and that the pensioner panicked and then collapsed from a heart attack.
He added it was believed the two cuts in her neck had been caused by a tightly-knotted scarf.
'Lost for words'
When a murder investigation was launched on 17 January, forensic evidence was lost after emergency services trampled over the crime scene, Det Insp Fraser Wylie said.
Acting Sgt Gledhill told the court he had washed a blood-stained key under a tap after touching it.
The court heard a paramedic also prodded Mrs Crown's body and spread her blood to a light switch, before rummaging through a chest of drawers.
Mrs Crown's family were then allowed into the property to clean up.
Mrs Crown's niece, Judy Payne, told the inquest: "I can't understand how it wasn't picked up immediately. We're lost for words."
Following the verdict, Assistant Chief Constable Mark Hopkins said the force "recognised its failings" and it was "deeply sorry for any hurt this has caused Mrs Crown's family".