Cambridgeshire Police museum opens to staff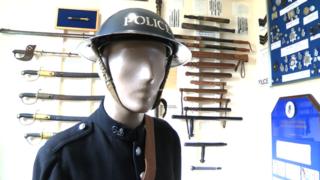 Old police uniforms, truncheons and swords are some of the items on display in a new museum opened by Cambridgeshire Police.
The museum at the Monks Wood base in Peterborough will initially be open to staff, but it is hoped school groups can be accommodated shortly.
Memorabilia from different departments, including the force's diving unit and air support unit, are also included.
Items collected date from the 1800s through to the present day.
"The museum has been set up to preserve the history, whether it be artefacts, memorabilia, paperwork or uniform of all the forces within Cambridgeshire," a spokesman said.
These include Huntingdonshire, Liberty of Peterborough, Isle of Ely, and Cambridge City all of which are now combined in Cambridgeshire Constabulary.