Cambridge park rally to support mother 'targeted by racists'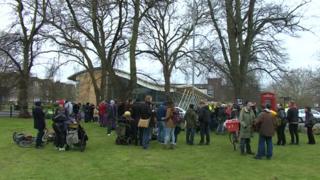 A rally has been held in Cambridge in support of a Muslim mother who says she and her one-year-old daughter were subjected to racist abuse.
Samrah Sehar and her daughter were in a park off Mill Road when the men called her a "rag-head" and asked if she would join terror group ISIS.
Mrs Sehar said she was "shocked" at the abuse from the six "well dressed men".
Rally organisers Cambridge Unite Against Fascism, said they were "appalled at the incident".
"A group of white males started laughing and then started shouting and saying phrases like 'Rag-head' and 'Are you going to join the ISIS?'... then they started to attack my daughter verbally," said Mrs Sehar.
"I was frightened and surprised as generally the community in Cambridge is very friendly - it came as a shock to me that this could happen here."
Mrs Sehar said she would have retaliated when the incident happened in March, but "didn't as my one-year-old was with me and I was scared they might become violent".
"I was so shocked, I've never had a negative experience in the three years I've been here," she added.
Richard Rose, who helped organised the gathering, said: "We wanted to make a firm statement and for the victims of these attacks realise they are not on their own.
"I think today's gathering has shown that a vast number of people in Cambridge do want to stand up against racism and be counted."
Mrs Sehar and her husband said they decided not to report the incident to police.