'Downton Abbey set' make-up trailer crashes near Royston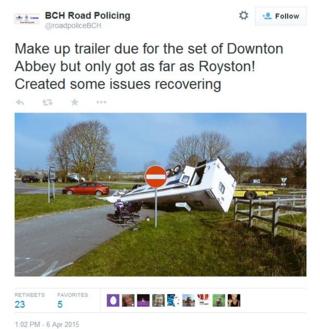 A make-up trailer that police claimed was destined for the set of television drama Downton Abbey has overturned.
Bedfordshire, Cambridgeshire and Hertfordshire roads policing unit posted a photograph on Monday, saying the trailer overturned near Royston.
The unit sent a tweet that said: "Make up trailer due for the set of Downton Abbey but only got as far as Royston."
A spokeswoman for Carnival Films, which makes Downton Abbey, said it did not own the trailer.
She said it did use production trailers provided by the company involved in the crash, but denied this one was intended for the Downton Abbey film set.
The period drama is partially filmed at Ealing Studios in London.
A spokeswoman for the studios said several productions were filmed there, including films and TV series.
Police tweeted the photograph of the crash, close to the border of Cambridgeshire and Hertfordshire, at just after 13:00 BST on Monday.
A Cambridgeshire police spokesman said an officer from Hertfordshire police sent the tweet.
Hertfordshire police is yet to comment on the circumstances.
It is understood police were told the vehicle was "sub-contracted" and "linked to Downton Abbey".