Firefighters tackle Tilbrook Sundown straw and lorries fire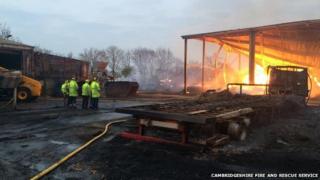 More than 60 firefighters have been tackling a blaze at a straw processing plant in Cambridgeshire.
The fire broke out at Sundown Straw Products in Tilbrook at about 23:15 BST on Wednesday. Flames engulfed a storage building and several lorries.
Cambridgeshire Fire and Rescue Service said gas cylinders at the site were safely removed. No-one was injured.
One crew remains at the scene and the fire is expected to burn for several hours. The cause is not yet known.
Firefighters from Bedfordshire, Northamptonshire and RAF Molesworth were involved in tackling the blaze.
A fire service spokesman said the incident was scaled down by 01:50 BST although the straw pile is still alight and has been left to burn "in a controlled manner".
An investigation into the cause of the blaze is under way.