Former Tory leader Nick Clarke defects to UKIP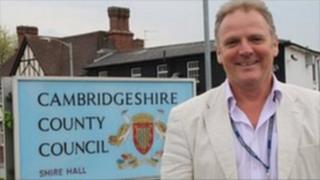 A former Tory leader of Cambridgeshire County Council has defected to UKIP to "protect our way of life for our children and our grandchildren".
Nick Clarke, who led the council between 2011 and 2013, called the Conservative's pledge to have a referendum on the EU a "token" gesture.
He said he had "no confidence" that the Conservative Party is able to deliver on an exit from the European Union".
The Conservative Party has yet to comment.
Mr Clarke, who lost his Fulbourn seat on the council in May 2013, said: "UKIP has the clarity of vision and drive to sustain the exit argument over the longer term, not just for one election, or one referendum but for much longer if necessary.
"The referendum, promised by the Conservatives, is clearly a token to try to hold the Conservative Party together. The other parties don't even want a referendum.
"But I don't expect the Conservatives to be able to settle what they want themselves, internally, let alone convince the electorate ahead of any referendum."
He paid tribute to Conservative colleagues, who he said "are hard working and driven by a desire to have a strong, well run UK".