Nightingale decline investigated with geo-locator tags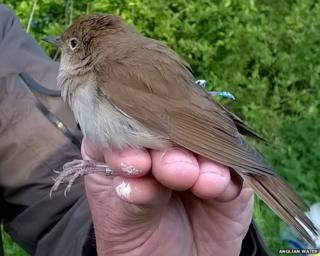 Tiny tracking tags are to be attached to nightingales in a bid to solve the mystery of their "alarming" decline.
The British Trust for Ornithology (BTO) said the breeding population had "almost halved" since the 1990s.
Geo-location devices will be attached to 20 migrating birds to monitor their movements across continents.
Paul Stancliffe, from the Trust, said the tags, weighing no more than 1g, are only possible because of "ever-smaller and lighter mobile phone components".
The population reduced by 43% between 1995 and 2012, with a further 14% fall recorded between 2012 and 2013, according to trust figures.
The project started two years ago, but this year new solar-powered tags, "no bigger than a shirt button", are being fitted.
Mr Stancliffe said: "They give us more information - these tiny little devices have a clock, a calendar and a light sensor.
"Scientists can analyse the data to determine where on the planet the bird was when it was recorded."
The birds are tagged in April when they arrive back in the UK after seven to eight months in west Africa.
Mr Stancliffe said the problem might not lie in the UK in what the birds face at stopover sites or winter locations when migrating.
"There's probably a whole host of reasons, including changing habitat and changing climate," he said.
"But it would be no good looking at those, without having all the information about what the bird does during the course of its life."
Last year the BTO tagged 20 birds, 13 of which returned to Britain.
This year it will tag another 20 birds, including two at Anglian Water's Grafham Water site in Cambridgeshire.