Cambridgeshire park and ride charges criticised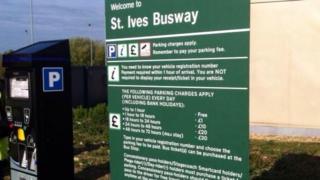 A new charge to park at two Cambridgeshire guided busway park and ride sites is the "wrong way to generate revenue" and will lead to congestion, a service operator said.
The £1 charge has been introduced at the St Ives and Longstanton sites.
The county council said it would help "protect frontline services".
Stagecoach director Andy Campbell said similar charges brought in last year at five sites led to a 14% drop in journeys and feared a similar fall.
A parking charge was first introduced in July to cover the £1m annual maintenance costs at the council-run sites in Milton, Trumpington, Babraham Road, Newmarket Road and Madingley Road.
'Increased congestion'
Mr Campbell said passenger numbers had been "devastated", leading to about 500,000 fewer journeys being taken. There was also anger after long queues built up at the new payment machines.
He said the company was "disappointed" by the latest charges being introduced at the two busway sites.
The drop in passenger numbers had led to "increased congestion in the city", he said.
"I understand the council has to generate money, but I think this is the wrong way to do it.
"The fear is we're going to see a drop-off [in passengers]... any loss of custom means increased traffic somewhere else."
The new charge has split passenger opinion with some describing it as "disgraceful" and "a joke" while others said £1 was "nothing to moan about".
Joseph Whelan, head of passenger transport services at the council, said the new charges were expected to generate about £120,000 a year, which was "important to help prevent further cuts to council services".