Toy dinosaurs returned after Cambridge charity's appeal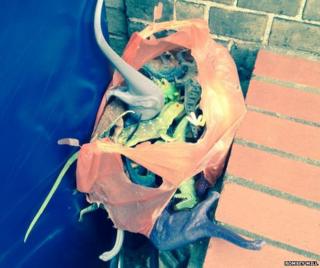 Dozens of toy dinosaurs, that were said to have paid "a high price for democracy" when they vanished from a charity being used as a polling station, have been returned.
The bag of toys was briefly left outside Romsey Mill's playgroup on Hemingford Road in Cambridge on 7 May.
The charity supports young people and families and runs a children's centre.
Fundraiser Neil Thomson said the toys were found outside the building by staff arriving at 07.30 BST.
The bag vanished after it was briefly left outside the playgroup door, which is opposite the entrance to the polling station, by the playgroup leader as she opened up.
The Christian charity did not report the loss to the police because staff hoped the person who took them would hear their appeal and "do the right thing".
Mr Thompson said: "They're all present and correct and we are really pleased they've been returned and can continue to be enjoyed by the children."
No note was left with the bag.
He said: "They've had a great adventure but, as we don't speak dinosaur, we don't know where they've been."