Paedophile doctor Myles Bradbury in sentence appeal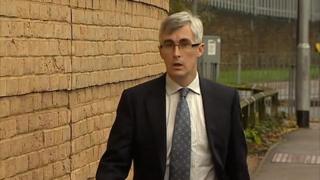 A paedophile doctor who was jailed for abusing young cancer patients is appealing against his 22-year sentence.
Myles Bradbury, 41, of Herringswell in Suffolk, admitted abusing 18 boys in his care at Addenbrooke's Hospital, Cambridge, between 2009 and 2013.
Bradbury was jailed at Cambridge Crown Court in December for sexual assault, voyeurism and possessing more than 16,000 indecent images.
His appeal, due next month, was called "shocking" by a victims' solicitor.
At Bradbury's sentencing in Cambridge, Judge Gareth Hawkesworth told him: "In many years' experience on the bench, I have never come across a more culpable or grave course of sexual criminality, which has involved such a gross and grotesque breach and betrayal of your Hippocratic Oath and trust reposed in you by your patients, their families and colleagues."
'Emotional ordeal'
The court heard that the images of his victims, some of whom had haemophilia, leukaemia and other serious illnesses, were gathered in the hospital.
Victims told investigators Bradbury had focused on examining their private parts, when there was no medical need to do so.
Renu Daly, of Neil Hudgell Solicitors, said: "A number of families we are representing have been completely shocked by the news of this appeal.
"This appeal will only cause more upset and difficulty for these families at a time when they need support and understanding.
"At least with the court case, they had time to prepare themselves for the emotional ordeal of hearing of the abuse which took place - this has come as a bolt out of the blue."
The case will held at the Royal Courts of Justice in London on 12 June before Lord Justice Heather Hallett.