Peterborough squatters set to be evicted from ex-council office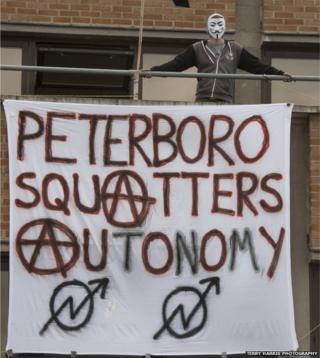 Anti-austerity squatters who took over a former council office in Peterborough are set to be evicted after the council began legal proceedings against them.
The group, calling itself Peterborough Squatters Autonomy, moved into Aqua House on Saturday night.
They claim to be a "collective... working to combat the state and highlight homeless in the city".
A city council spokesman said it could be "at least a week" until it had the necessary legal powers to evict them.
About 10 people moved into the East Station Road building, hanging protest banners from the balcony.
Slogans on the banners included "honk to support the NHS", "Torys out" [sic] and "Our nation not for sale!".
One of the group said members of the public had been bringing them food and drink.
He said the group intended to stay "as long as we can".
The council spokesman said it was going to the court to obtain an interim possession order for Aqua House.
"This will give us the legal right to evict the protestors that are unlawfully occupying the building," he said.
"We will be supported by the police during any eviction and very much hope and expect the occupiers to peacefully leave the building."