'Bizarre' Cambridge diversion signs confuse drivers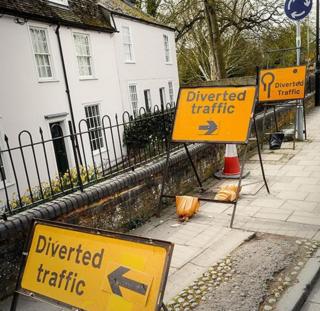 Motorists were left unsure which way to turn after a set of bizarre diversion signs were erected in Cambridge.
The signs were spotted by Martin Bond in Northampton Street. Passing motorists were "clearly confused" by the conflicting information, he said.
As the Cambridge News reported, the signs were put up as part of the redevelopment of Kettle's Yard gallery.
The gallery said the signs were erected by a traffic management company and agreed with the county council.
Mr Bond said cars were attempting to obey the signs "except for a Porsche, which just drove straight through".
Asked whether the signs might be a student prank, photographer Mr Bond told the BBC: "There were definitely no shenanigans. The contractors were clearing the road to allow a crane to access the gallery at the time."
He said he did not hang around to ask how drivers were expected to interpret the signs as he was "late for lunch at my mum's".
However, after he posted his picture on social media hundreds of people commented, most agreeing the signs made no sense.
One person joked it took him 10 attempts to get through the diversion while others described the options as "hilarious".
"You could not make it up," one wrote, while another summed it up with the comment: "Only in Cambridge."