Staff 'sacked after voicing health and safety concerns'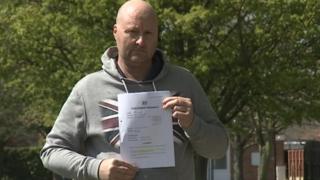 Workers at a supermarket distribution company were followed by private detectives, sacked for smoking an e-cigarette and fired for voicing health and safety concerns, a tribunal heard.
The workers were employed at depots run by Wincanton PLC in Cambridgeshire and Northamptonshire.
The tribunals found the three staff members had been unfairly dismissed.
A spokesman for Wincanton said its procedures had not been at fault.
'Dangerous overloading'
Dale Underwood, who worked as a driver at the Huntington depot, said he found himself being accused of blackmail after he complained of dangerous overloading inside delivery lorries Wincanton operated for the Co-op.
Letters and a CD had been sent to a Wincanton manager demanding £50,000 or videos of health and safety breaches would be posted on the Internet.
Mr Underwood said: "The police came to my house, took every bit of equipment I had in my home, stripped my house which was very embarrassing for me because the neighbours see police taking my PCs."
A police investigation exonerated him and the charges were dropped, but in the meantime Mr Underwood said that being suspended from work left him so poor that he was forced to go to food banks to eat.
'Trailed and videoed'
The employment tribunal found Mr Underwood had been unfairly dismissed for asserting his statutory right to back-pay, not because of the whistleblowing. It also ruled that Mr Underwood's name might well have been forwarded to the police as a result of his disclosures about the safety breaches.
Mr Underwood said: "It's not about money - it's more about what this company did to me and what they wanted to do to me".
Keith Joy won his case after he was sacked in June 2014 for smoking an electronic cigarette on the premises in Huntingdon.
He said managers had pursued the smoking allegation after he complained his signature was being forged on vehicle safety sheets, which he said could have led to unsafe vehicles being put on the road.
Mr Joy's successful claim for unfair dismissal wasn't based on his whistle-blowing due to a procedural issue but the Employment Judge refused an application by Wincanton to have these claims removed from his witness statement.
When Natalia Samuel filed a disability discrimination case against Wincanton PLC after being injured at work by a falling drill bit, she was trailed and videoed by private detectives.
A DVD of Mrs Samuel going to buy food at Northampton market was used by the company to prove she had misled them about her injuries but the tribunal ruled she had been unfairly dismissed, saying "no reasonable employer would have behaved in this way".
Wincanton PLC said: "In none of the three was Wincanton criticised, nor found to be at fault, for its health and safety or whistleblowing procedures"