Umbrella-wielding day-glo thief thwarted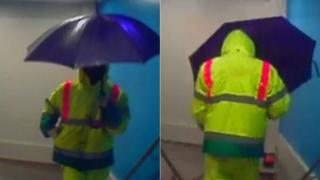 An umbrella-wielding thief was thwarted when staff told him there was no cash at the bookmakers' he was attempting to rob in Cambridge.
The "distinctive" thief was wearing top-to-toe fluorescent clothing when he entered the Coral shop in Emmanuel Street.
He put his hand in his pocket as though he had a weapon, but when staff said they had no money, the thief fled.
Police admitted he "was not trying to blend in" and appealed for witnesses.
An officer said staff at the shop were left shaken by the ordeal on Sunday evening, but were not hurt.