Homes sought for 40,000 'ugly' lemons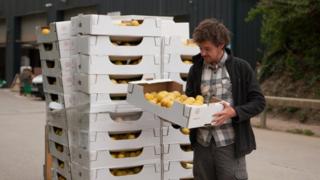 More than 40,000 lemons deemed "too ugly" to be sold in supermarkets have been snapped up by an organic farm.
The six tonnes of the fruit were rejected by two major supermarkets as "unsuitable to meet retailer specification based on appearance".
Instead, Riverford, an organic food box company, took delivery of the lemons at its Peterborough farm.
Customers who want lemons and "don't mind a bit of scar-dodging" will have the fruit added to their orders.
The company said it "doesn't believe in needless waste" adding: "Too ugly for supermarket shelves? Riverford will have them."
Eight pallets of boxes of Spanish lemons each stacked about 7ft (two metres) high arrived late last week.
'Crazy food system'
Customers who want lemons as part of their orders have been advised to order them "if you like the sound of them, and don't mind a bit of scar-dodging while you zest".
"This is another example of a crazy food system that has forgotten it's producing food, not kitchen ornaments," James Negus, from the company's Sacrewell Farm, near Peterborough, said.
"The lemons are slightly green in areas, due to not enough difference between night and daytime temperatures, and have a few scars from hail damage."
The company's chefs described them as "beautiful, ripe, aromatic lemons with plenty of juice and flavour".
Riverford did not get a discount on the lemons, Mr Negus said.
"We feel a fair price should be paid to the farmer."
The company was founded in Devon and has bases in Cambridgeshire, North Yorkshire and Hampshire. The lemons will be distributed to all four farms for delivery to customers across the UK.