Fordham Abbey Japanese sake brewery 'first' in UK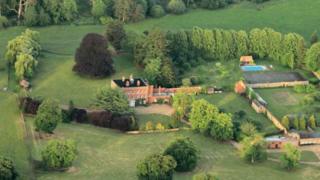 A Japanese family which has been producing rice wine for 200 years is setting up the UK's first sake brewery.
The Dojima company is investing £9m after buying Fordham Abbey Estate in Cambridgeshire where it will also build an education and visitor centre.
The government said it would be a "first" for the UK and would create 100 jobs over five years.
The Hashimoto family said they chose the site as it was close to where one of their children was attending school.
The family, which owns Dojima, was supported by both UK Trade and Investment (UKTI) and the Japanese government when it announced plans to begin brewing in the UK.
In March 2015 they paid more than £3m for the Fordham estate, which is close to Newmarket and consists of a Georgian manor and more than 200 acres (81 hectares) of parkland.
A planning application for the new brewery in the grounds of the manor house was approved by East Cambridgeshire District Council on Wednesday.
Dojima project manager Noriko Tomioka said work should begin at the site later this month.
The brewery building itself is expected to take about six months to complete.
The company hopes its first sake - an alcoholic drink made from water and fermented rice using a recipe that dates back more than 600 years - will be ready in about one year's time.
The rice will be imported from Japan, grown on a farm owned by the wife of Japanese Prime Minister Shinzō Abe, Ms Tomioka said.
A Scottish company, Arran Brewery, had hoped to become the first in the UK to begin producing sake, however, its plans are currently on hold after its proposed site in Dreghorn, north Ayrshire, was repeatedly vandalised.