Lorry drove wrong way around Cambridgeshire roundabout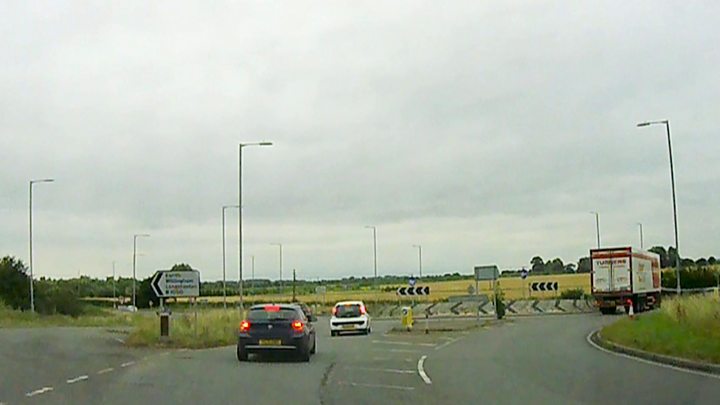 A lorry driver drove the wrong way around a roundabout in a manoeuvre described by a former traffic officer as "extremely dangerous".
The incident involving a Turners of Soham lorry was recorded on a dashcam near Bar Hill in Cambridgeshire.
No vehicles were hit but former police officer Tony Barrios said it "could have been tragic".
The company said the fully-qualified "English national, ex-Army" driver was "clearly confused" and being retrained.
The lorry was approaching the roundabout towards the A14 on 2 August when it veered right into the oncoming lane, and drove the wrong way around the roundabout.
More on this and other news from Cambridgeshire
Mr Barrios, who saw the lorry footage, said: "It would be alarming if it was a car.
"Coming up to that roundabout off the A14 are vehicles that have braked from 70mph to be confronted by an articulated lorry on their side of the road, so it's an extremely dangerous manoeuvre."
'Another chance'
Turners of Soham managing director Paul Day said the driver had passed his HGV qualification in March and had worked at the company's Castleford depot in West Yorkshire since May.
"Clearly our driver made a mistake. In my opinion he's become lost."
Mr Day said that he was a "professional driver" and dismissing him would be "the easy decision".
"I've decided to give him another chance," he added. "We've taken him out of driving for two weeks to retrain."
"The alternative is we dismiss him, but there's such a shortage of lorry drivers... that he will get a job with an agency tomorrow and go out without any further training."
If the unnamed driver passes he will need to drive a lorry with a camera fitted in the cab.
The company said the driver would not be commenting.