Man shot by police in St Neots had criminal record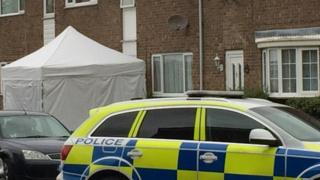 A man shot dead by police at a house in Cambridgeshire had a criminal record, a pre-inquest review was told.
Richard Davies, 41, was fatally shot at the home he shared with his wife Samantha in Duck Lane, St Neots, on 21 October 2015.
It reportedly followed a stand-off and the Independent Police Complaints Commission (IPCC) said a gun and two knives were found inside the home.
Mr Davies died of a single gunshot wound to the chest.
Nicholas Moss, assistant coroner for Cambridgeshire, told the review hearing that "in the vast majority of inquests, the deceased's criminal record wouldn't be relevant".
However, he told Monday's hearing at Huntingdon Town Hall he would allow details of Mr Davies's criminal record to be put before a jury inquest.
"It's clear that to some extent Mr Davies's criminal history, although in short form, was referred to in the police communications," said Mr Moss.
"While that information in many cases would be seen as prejudicial, I'm minded to include it.
Anonymity application
"The police officers who attended were told about it and, making the judgement calls they did, that was one of the things they had to take into account."
The firearms officer who fired the fatal shot was referred to at the hearing as I7. An application for his evidence to be given anonymously has been made.
The hearing was told the officer currently works on plain-clothes firearms operations, targeting organised crime. Mr Moss said he would make a formal ruling on anonymity ahead of the full inquest.
The IPCC has investigated the incident but has yet to publish its findings.
A full jury inquest will begin on 5 July at Peterborough Town Hall and is expected to last up to three weeks.