Bourn Airfield: Fatal plane crash caused by wrong wing setting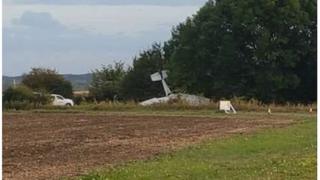 A plane crash in which one man died and another was seriously injured was caused by an incorrect wing flap setting, an air accident report found.
The 58-year-old pilot of the Cessna light aircraft was killed on 17 October 2016 at Bourn Airfield, near Cambridge.
The Air Accidents Investigation Branch (AAIB) found the flap setting meant there was "excess drag" at take-off.
This prevented the plane from climbing properly and it went into a nose-dive before hitting the ground.
The report said it was not the only accident where a pilot had "inadvertently" used the wrong wing flap setting and the AAIB recommended that particular mention of this should be made in training.
The pilot of the plane was described at the time of the crash as as "meticulous" and "experienced".