Two women die as car plunges into Ramsey Forty Foot ditch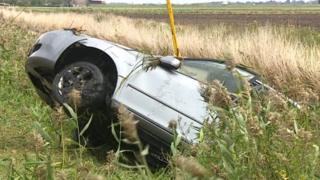 Two women died when a car plunged into a water-filled ditch.
The silver Mazda, which had four people inside, crashed in Puddock Road, near Ramsey Forty Foot, Cambridgeshire, at about 07:15 BST.
The women who died were passengers in the rear of the vehicle, Cambridgeshire Police said. Two men in the front of the car managed to escape and were taken to hospital with minor injuries.
No other vehicles were involved, officers said.
Det Sgt Toni Hall-Madden, from Cambridgeshire Police, said: "These roads can be very, very bumpy... and most have water-filled ditches at the side.
"If you come off, there's a serious risk of death if you go in the water."
More on this and other news from Cambridgeshire