Thomas Grice gets new wheelchair after charity loo lock-in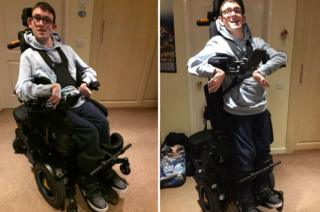 A student with cerebral palsy has his first new wheelchair in 10 years after a friend spent 48 hours locked in a portable toilet to raise the funds.
Thomas Grice, 21, turned up at his college in Cambridge earlier in his brand new £25,500 chair.
His friend Louisa Marnoch spent two days squatting in the toilet in the lobby of Tesco in Milton in October in a final push to raise the money needed.
Mr Grice said: "From the bottom of my heart I thank everybody."
He was born three months' prematurely, weighing just 2lb 7oz (1.1kg) and was diagnosed with cerebral palsy, affecting postural control and all four limbs.
The Cambridge Regional College student is unable to walk and is completely wheelchair-dependent, but had outgrown the one he had been using since he was 11.
Mrs Marnoch, who works as a special educational needs and disabilities facilitator at the college, and other friends have been trying to raise the money for a new chair for just over a year.
The "final push" involved her toilet stunt, where she kept her sanity while perched on the porcelain by "blogging from the bog" and raising enough for the chair to be ordered.
The new chair has some "nifty" features, Mr Grice said, including indicators, headlights and an infrared mode "which means I can control the TV with it as well".
"And it's quite fast."
He added: "I cannot believe it. It's a real thrill and it's going to make such a difference to my life. It really is."