Police in Peterborough seize car after freeing locked-in child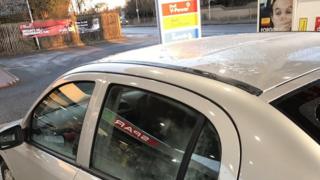 A woman called police after her car key broke in a lock, trapping her child inside, only to have her vehicle taken away when officers found she was not insured to drive it.
"We managed to reunite the child with mum," Beds, Cambs and Herts Road Policing tweeted after the incident at a petrol station in Peterborough.
"However, the car was uninsured so off to the compound."
The woman will be given a fixed penalty notice for driving without insurance.
Police said they were called to the Shell petrol station on Lincoln Road, Peterborough, at 07:55 GMT on Thursday.
"What a rollercoaster of emotions!" one Twitter user commented. "Chilly walk home," added another.
The Motor Insurers' Bureau says 145,000 uninsured cars were seized last year.