Autistic boy inundated with Santa pyjamas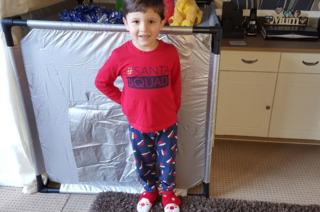 Dozens of people have offered to send out-of-stock Asda Christmas pyjamas to a boy with autism after he decided they were the only things he would wear.
Ewan Manning, five, does not like clothing, and other than his school uniform, will only wear pants.
However, when he was given a pair of "Santa Squad" pyjamas, he did not want to take them off, his mother said.
Asda had no more stock but after Kelly Manning appealed on social media she was "inundated" with offers of pairs.
"Ewan has issues over wearing clothing so when he comes in from school he spends his days in his pants," Mrs Manning, from Sawtry, Cambridgeshire, explained.
"Christmas was special as Santa brought a Christmas Eve box which had pyjamas and slippers in.
"This is the first year Ewan has taken any interest in Santa, and from there, we ended up with a pyjama issue," she said.
Ewan has sensory issues and prefers not to wear clothes, apart from when he goes to school, his mother said.
"Ewan's decided the Santa squad pyjamas and Santa slippers are the most wonderful thing in the world.
"I never for one moment thought that every night I would be washing the same pair of pyjamas to get them ready for the following morning," said Mrs Manning.
After four nights she "started a search" for another pair.
Asda said it had no stock left at all, so she appealed locally on Facebook.
"I got messages from people all over the UK offering me the pyjamas.
"At one stage I panicked and thought I'd end up with hundreds, so we took down the post.
"It was a fantastic response. It was overwhelming how many people were willing to help me."
Mrs Manning said she thought she would end up with about 20 pairs, some of which would be large enough for Ewan to wear when he is older.
"The milestone of him wearing clothes at home is huge," she added.