'Kebab officer' Richard Musgrave sacked over pub lies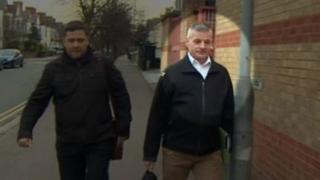 A policeman has been sacked after he "deliberately played down" his wife's involvement in a pub row.
PC Richard Musgrave was not impartial when dealing with the disturbance at a Wetherspoon's in March, Cambridgeshire, in July 2016, a misconduct panel found.
It heard the previous night he had also disappeared while on duty to eat a kebab on an industrial estate, sparking a search by concerned colleagues.
The panel found the 52-year-old had breached professional standards.
He had denied gross misconduct at the four-day hearing, but the panel dismissed him from Cambridgeshire Police without notice.
'Preferential treatment'
Officers were sent to look for PC Musgrave after he went missing in the early hours of 31 July.
He later variously claimed his watch had stopped, his phone was on silent, his radio ear piece had come out and he had fallen asleep on the estate.
PC Musgrave was also accused of going to the town's Hippodrome pub the following night "at the request" of his wife, who had become embroiled in a row.
But he did not inform the force control room he was going there and had not called for assistance, which he should have done due to a conflict of interests.
He said he thought he could "sort the matter quickly" on his own but the misconduct panel concluded PC Musgrave "was not acting impartially" at the incident, and instead gave his wife's group "preferential treatment".
Defending, Colin Banham said PC Musgrave "deeply regrets" what he did and had planned to retire in a few years.
The misconduct panel concluded the officer had breached professional standards in respect of honesty and integrity, discreditable conduct and duties and responsibilities.
Public confidence in the police service would be "undermined" if he was to continue in his role and his colleagues would have trouble "trusting him" in the future, it added.