Cambridge woman, 96, 'denied peaceful death' at Addenbrooke's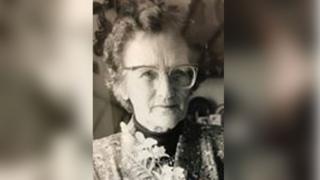 The family of a woman who died in hospital said she was denied a peaceful end to her life after she passed away in a busy ward.
Annie Dunlop, 96, died at Addenbrooke's Hospital in Cambridge on Saturday, eight weeks after suffering a stroke.
An attempt to transfer the blind great-grandmother to a nursing home had fallen through, her family said.
The hospital apologised and said it was dealing with a high demand for beds and side rooms due to the flu outbreak.
Mrs Dunlop's son Robert, 68, who lives near Finchingfield, Essex, said visiting times in the ward were "unbearably noisy".
He said they arranged a chaplain's service for his mother which was surrounded by noise and "general mayhem".
Mrs Dunlop, who lived in Cherry Hinton, Cambridge, for many years, died at 06:30 GMT.
Mr Dunlop said: "The whole thing was an unpleasant experience and the sad thing about it is that she didn't have a quiet ending.
"I won't ever know if it was quiet when she died and if she was peaceful."
Mr Dunlop praised the staff who directly treated his mother, saying some were "wonderful".
Dr Zoe Fritz, a consultant physician at Addenbrooke's, said it was unfortunate Mrs Dunlop was not given "space and peace at the end of life".
"There's a flu epidemic at the moment and if you have to give a side room to someone who might infect everyone else on the ward, then the risk of infection takes precedence," she said.
Cambridge University Hospitals, the trust which runs the hospital, said it was unable to give a figure on how many influenza patients it is dealing with.
It said it has been "very busy" since before Christmas.
Hospitals admissions for the UK for influenza have seen a sharp rise going into 2018, Public Health figures have shown.