Cambridge flats plan for fire-hit hotel approved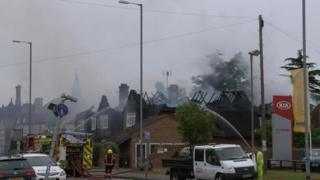 A fire-ravaged guesthouse will be demolished and flats built in its place after plans were approved by a council.
Lovell Lodge was wrecked when a blaze ripped through the building in Cambridge on 5 June 2016.
The developers said it was "not viable" to return to its former use and applied for permission to replace it with 14 flats.
Despite concerns about on-street parking from nearby residents, the city council approved the plans.
Lovell Lodge on Milton Road has been empty since the fire, which started in the kitchen during breakfast time and caused "irreplaceable damage" to the building and roof, according to developers.
The developers said it would be a mixture of one- and two-bedroom studios with space for six cars.
A report to Cambridge City Council said the flats "would enhance the character and appearance of the area" and "the proposal would respect the amenities of neighbouring properties and would not have a harmful impact on on-street parking".
The council's planning committee approved the application at a meeting on Wednesday.
It is not yet known when demolition and building work will commence.