'Phonecall confession' killer guilty of friend's murder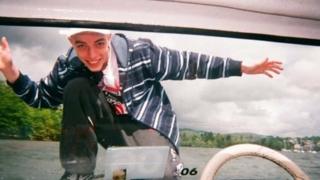 A man said to have confessed to killing his childhood friend in a phone call to the victim's brother has been convicted of murder.
Abdul Korim Ali, 25, stabbed James Cromwell in the heart after they argued in a Cambridge street in June 2017.
Mr Cromwell, 27, collapsed nearby and later died in hospital.
A court heard Ali, of Darwin Drive, Cambridge believed his victim was "stealing customers" in a drugs turf war. He had denied the charge.
Mr Cromwell and another friend, Shuhan Shahid, had gone to Darwin Drive at about 22:30 BST on 30 June after drinking and taking drugs, Cambridge Crown Court heard.
The plan had been to buy cannabis, before Ali and Mr Cromwell, of Lady Margaret Road, began arguing, the jury heard.
The court was told Mr Cromwell's younger brother Luke was in the hospital shortly after his death, when Ali told him on the phone: "I'm sorry, man. I didn't mean to. I don't want to go to prison."
In his evidence, Luke Cromwell said: "You're never going to forget something like that."
Ali claimed he was unwell in bed at home at the time of the stabbing and a cut on his finger was not as a result of the incident, but from the previous day,
He was accused of "awful hypocrisy" by prosecutor David Jeremy QC for leaving flowers at the scene in tribute to the man he killed.
Ali's younger brother, Abdul Salam Ali, 24, was found guilty of intimidating a witness.
The brothers were found not guilty of conspiracy to pervert the course of justice, following advice from Judge David Farrell QC due to insufficient evidence.
Both of them admitted causing a phone to be used from within prison.