Peterborough City Council plans to end Travelodge homeless housing scheme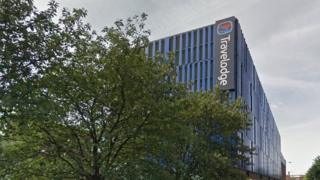 A council plans to end using Travelodge rooms to house homeless families.
Peterborough City Council began using the hotels after running out of hostel beds and bed and breakfast rooms after a "spike" in demand.
As first reported by the Peterborough Telegraph, the council is taking over 29 new homes and will no longer use Travelodges, but will continue to use other forms of temporary accommodation.
Leader of the council John Holdich said the new homes were "quite good value".
About 350 households are currently in temporary accommodation and the council has spent about £4m on the 29 new properties.
Mr Holdich said that using the Travelodge was "no good for those people [living there] and certainly no good for our budget as it gave us an overspend of about £1.7m".
The council has used 75 hostel rooms and 133 other homes in St Michael's Gate and Elizabeth Court to house people, with the rest of the 350 households being accommodated in bed and breakfast or hotel accommodation.
Ed Walker from homeless charity Hope into Action said buying the 29 new homes had "got to be cheaper than putting people into B&B and paying high bills".
"If it improves our ability to move people on from hostels and homes then that's a good thing," he added.