Elsie Freeman: 1998 murder has 'hallmarks of a burglary gone wrong'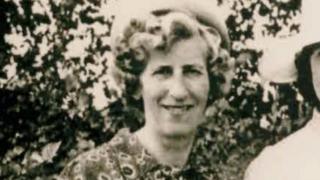 The death of an "introvert" whose body was found with bound hands and feet 20 years ago has "all the hallmarks of a burglary gone wrong", police said.
Elsie Freeman, 76, was found dead in Impington, Cambridgeshire, on 7 March 1998 in the home where she lived alone.
No-one has ever been charged with the murder of Ms Freeman and police remain "open-minded" about what happened.
Det Sgt Elizabeth Morris said a broken side window led police to believe the murderer had broken in.
"The house was hidden from the road by trees and shrubs so that would have made it difficult for people to see if the house had broken into," she said.
Ms Freeman had lived in the house on Mill Road for most of her adult life but lived a reclusive lifestyle and police said at the time this made the investigation more difficult.
"She was an increasingly introverted person. She never married and her other three sisters had married and moved away," said Det Sgt Morris.
"She wasn't reported to know people personally in the local area. She was known to cycle to the local post office and that was really about it."
There had been a spate of burglaries in the local area around the time of the former care worker's murder, leading to a major line of inquiry.
"No-one was actually arrested on suspicion of murder but a male, in his 40s at the time, was arrested in connection to the murder, but on suspicion of burglary," said Det Sgt Morris.
"There wasn't enough evidence to indicate they were directly associated to the murder but questions were put to them in relation to the time of the murder and also items of property on them which may or may not have come from Elsie Freeman's house."
The case was re-opened in 2005 after new forensic techniques emerged. No arrests were made and the case is now closed, aside from a bi-annual review.
Det Sgt Morris added: "People who still live in the area will still remember this case and any information they have, however small, we would kindly ask that they come forward."