Blackbirds Inn: 'Major' fire at Woodditton pub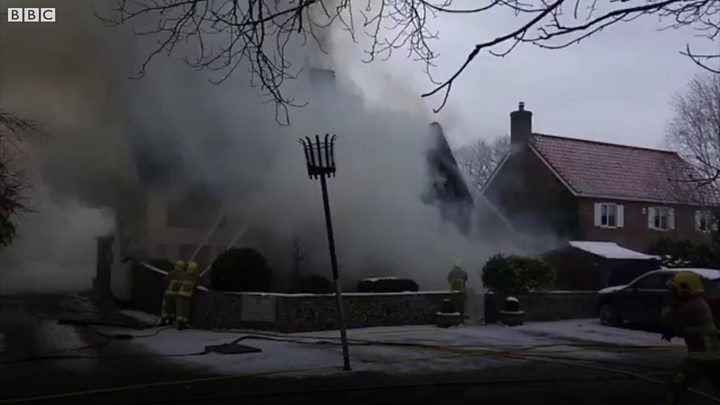 Fire crews are tackling a "major" blaze at a 17th Century Cambridgeshire inn.
The Blackbirds Inn at Woodditton, near Newmarket, caught fire at about 10:00 GMT on Friday. It said on Twitter that "everyone is out and safe".
The cause of the fire at the thatched property is yet to be determined.
Eleven fire crews from Cambridgeshire and Suffolk are currently at the scene and have told people to avoid the area, where the road is currently closed.
It is understood that the thatching had been refurbished about six months prior to the fire.
At the scene - BBC Radio Cambridgeshire's Sara Varey
I'm standing looking at the remains of the pub, and that's all you can say. The roof has completely collapsed.
There are clouds of steam and a little smoke billowing forth.
It's a very popular pub in the village. I've just spoken to the owner, Philip Turner, who tells me that as far as he's aware the fire started about 10:00 on Friday.
They're still trying to save what they can from the building. But he says the pub will rise from the ashes.