Blossom the cow's owner baffled by theft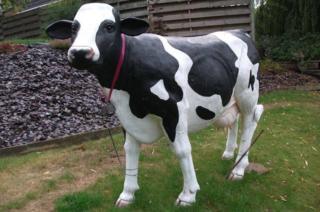 The owner of a 13-stone (82kg) fibreglass cow called Blossom stolen from a Cambridgeshire garden is baffled by how the thieves made off with her.
The hefty heifer was taken from Cathy Moulton's home in Ramsey Forty Foot on 15 March.
Mrs Moulton's beloved possession was staked to the ground and protected by a river and a high fence. She said the rustlers had left no clues behind.
Police investigating the theft described it as "rather unusual".
Mrs Moulton's family has owned the full-size black and white Friesian replica for nine years, and were all "very upset" by her disappearance.
"She was like one of the family and it was devastating when we discovered she had gone on Thursday," she said.
The cow has become "quite a talking point" in the area and was often moved around the garden and dressed up for special occasions.
"We put a Santa hat and antlers on her, plus a red nose at Christmas, and she was dressed in quite a fine hat for the Royal Wedding," said Mrs Moulton.
She said it was "baffling" to her trying to think how the thieves made off with Blossom as "she's not easy to handle".
There were no tyre tracks and a boat would have been easily spotted, she said.
"There has been no ransom note - no sightings - nothing."
Police agreed that Blossom was "somewhat of a local landmark".